Mumpower Re-Elected Comptroller of the Treasury
Wednesday, January 11, 2023 | 10:30am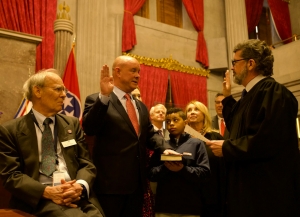 The members of the Tennessee Senate and House of Representatives have re-elected Jason Mumpower as Tennessee's Comptroller of the Treasury. The vote by acclamation was taken during Wednesday's Joint Convention of the 113th General Assembly.
The 49-year-old native of Bristol is Tennessee's 35th Comptroller of the Treasury and was re-elected to his second two-year term. Mumpower leads a staff of more than 580 employees working across the state.
The Comptroller's Office has many responsibilities including auditing state and local government entities, overseeing Tennessee's 95 county assessors of property, managing the state's debt, approving local government budgets, and participating in the general financial and administrative management of state government.
Comptroller Mumpower is a graduate of Bristol Tennessee High School and King University (née King College), where he currently serves on the Board of Trustees. His wife, Alicia, 10-year-old son, Max, and his mother, Cathy Wolfenbarger of Bristol, were pleased to attend today's election.
"I am honored to have the support and confidence of the Tennessee General Assembly in this important role," said Comptroller Mumpower. "We will continue to encourage conservative fiscal management of taxpayer dollars and stay focused on our mission to make government work better."
If you suspect fraud, waste, or abuse of public money in Tennessee, call the Comptroller's toll-free hotline at 800.232.5454, or file a report online at: tncot.cc/fraud. Follow us on twitter: @TNCOT or Instagram @tncot.
Media contact: John Dunn, Director of Communications, 615.401.7755 or john.dunn@cot.tn.gov
Related Links: